our aim and concept
At BBROOD we aim to produce high quality and healthy sourdough bread. We produce daily fresh bread in its purest form without unnecessary additives and preservatives. Not only do we produce pure and real tasty sourdough bread that is healthy for the customer, but we also like to put the art of baking in the spotlights. You can watch the bakers in action in our open-plan bakery at Magadi Road.
Sustainability is one of our spearheads… not only with respect to the earth, but also regarding people: from Amsterdam to Nairobi we'd like to provide the whole world with healthy sourdough bread. Because it is better for the body, it is tastier and more nutritious.
the journey
BBROOD was founded in 2008 in the Netherlands by Renee Pater, who is the third generation in a family of bread bakers.
The first shop was at the Zeedijk in Amsterdam. BBROOD currently has 12 shops spread over the city of Amsterdam.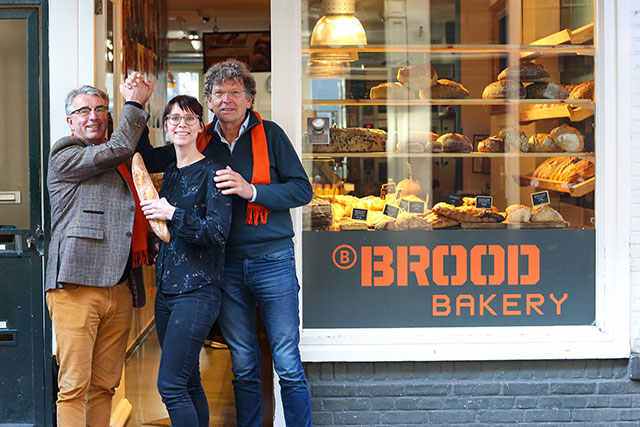 In 2011, BBROOD went abroad and opened a bakery in Kampala in Uganda. There are currently 5 BBROOD shops in Kampala.
Two years later, in 2013, BBROOD moved to neighbouring country Rwanda, where the sourdough products were warmly welcomed.
BBROOD Kenya opened its doors in Kenya in May 2016. Initially with a bakery at Magadi Road and shops in Sarit Centre and Adlife Plaza, but quickly expanding to 6 shops spread over Nairobi.
which impact does bbrood want to make?
Contribute to the sustainability of local communities by means of nutritious bread that serves a healthy local diet.
behind the scenes
The employees of BBROOD are making the company culture – which for that reason is a unique one! Together we bake and sell, each and every day, our unique products made with all our attention and effort: real tasty sourdough bread!
would you like to increase our impact?
We regularly have various vacancies in our shops and bakery – to bake, sell or promote our products.